Sacroiliac Joint Pain
November 5, 2020
Sacroiliac Joint Pain
Overview
Sacroiliac (SI) joint pain is felt in the low back and buttocks. The pain is caused by damage or injury to the joint between the spine and hip. Sacroiliac pain can mimic other conditions, such as a herniated disc or hip problem. Accurate diagnosis is important to determine the source of pain. Physical therapy, stretching exercises, pain medication, and joint injections are used first to manage the symptoms. Surgery to fuse the joint and stop painful motion may be recommended.
What is sacroiliac joint pain?
The SI joints are located between the iliac bones and the sacrum, connecting the spine to the hips. The two joints provide support and stability and play a major role in absorbing impact when walking and lifting. From the back, the SI joints are located below the waist where two dimples are visible.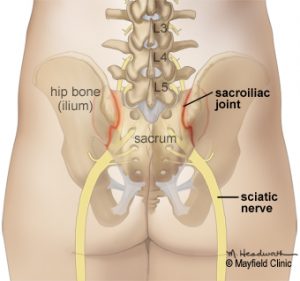 Figure 1. The sacroiliac joints connect the base of the spine (sacrum) to the hip bones (ilium).
Strong ligaments and muscles support the SI joints. There is a very small amount of motion in the joint for normal body flexibility. As we age, our bones may rub together, causing pain (fig.1). The SI joint is a synovial joint filled with fluid. This type of joint has free nerve endings that can cause chronic pain if the joint degenerates or does not move properly.
Sacroiliac joint pain ranges from mild to severe, depending on the extent and cause of injury. Acute SI joint pain occurs suddenly and usually heals within several days to weeks. Chronic SI joint pain persists for more than three months; it may be felt all the time or worsen with certain activities. Other terms for SI joint pain include: SI joint dysfunction, SI joint syndrome, SI joint strain and SI joint inflammation.
What are the symptoms?
The signs and symptoms of Si pain start in the lower back and buttock, and may radiate to the lower hip, groin, or upper thigh. While the pain is usually one sided, it can occur on both sides. Patients may also experience numbness or tingling in the leg or a feeling of weakness in the leg.
Symptoms may worsen with sitting, standing, sleeping, walking, or climbing stairs. Often the SI joint is painful sitting or sleeping on the affected side. Some people have difficulty riding in a car or standing, sitting, or walking too long. Pain can be worse with transitional movements (going from sit to stand), standing on one leg, or climbing stairs.
What are the causes?
The SI joint can become painful when the ligaments become too loose or too tight. This can occur as the result of a fall, work injury, car accident, pregnancy and childbirth, or hip/spine surgery (laminectomy, lumbar fusion).
Sacroiliac joint pain can occur when movement in the pelvis is not the same on both sides. Uneven movement may occur when one leg is longer or weaker that the other, or with arthritis in the hip or knee problems. Autoimmune diseases, such as axial spondylarthritis, and biomechanical conditions, such as wearing a walking boot following foot/ankle surgery or non-supportive footwear can lead to degenerative sacroiliitis.
What treatments are available?
Nonsurgical treatments: Physical therapy, chiropractic manipulation, and stretching exercises help many patients. Some patients may require oral anti-inflammatory medications or topical patches, creams, salves, or mechanical bracing.
Recovery and prevention
A positive attitude, regular activity, and a prompt return to work are all very important elements of recovery. If regular job duties cannot be performed initially, modified (light or restricted) duty may be prescribed of a limited time.
Prevention is key to avoiding recurrence:
• Proper lifting techniques
• Good posture during sitting, standing, moving, and sleeping
• Regular exercise with stretching/strengthening
• An ergonomic work area
• Good nutrition, healthy weight, lean body mass
• Stress management and relaxation techniques
• No smoking
Links
www.spine-health.com
www.spineuniverse.com
Acknowledgements
Marc Orlando, MD.
William Tobler, MD.
Cannington Chiro Services
Patients attending Cannington Chiro help us by first filling out a "New Patient Questionnaire", followed by a thorough consultation, examination, and assessment. This helps us help you.
Beginning treatment ASAP is a priority to us, with the aim of, in most cases, commencing treatment from day one. Healing, repair and rehabilitating the body after being injured is a process – and processes take time – so with understanding and patience a positive long-term outcome can be expected.
We look forward to helping you and demonstrating that we may be the missing link in your recovery.